zurück zur Übersicht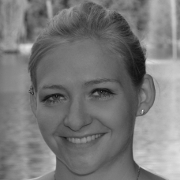 Lisa Wagner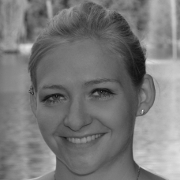 Faculty of Biology, Chemistry & Earth Science
Organic Chemistry (Food Chemistry)
---
Lisa Wagner studied Biochemistry at the University of Bayreuth. She finished her bachelor thesis in 2013 at the Chair of Biochemistry with Prof. Dr. Franz-Xaver Schmid on "Folding and function of the human protein Grb2".
Afterwards she completed the master's degree program "Biochemistry and Molecular Biology" at the University of Bayreuth. During this time, she broadened her field of expertise towards Organic Chemistry and completed her master thesis in 2016 at the Chair of Bioorganic Chemistry with Prof. Dr. Carlo Unverzagt. The work dealt with the "Convergent synthesis and ligation of glycopeptide thioesters from the Fc region of the human immunoglobuline".
In her Ph.D. thesis in the working group of Prof. Dr. Frank Hahn, she works on the investigation of a novel group of cyclases from polyketide biosynthetic pathways as well as their exploitation for the biocatalytic synthesis of chiral reduced oxygen heterocycles.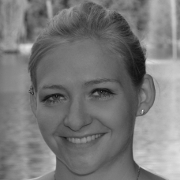 Faculty of Biology, Chemistry & Earth Science
Organic Chemistry (Food Chemistry)
---
Publikationen
2022
Wagner, Lisa Maria Carolin
Enzymatische Synthese von chiralen, mehrfach substituierten Heterozyklen durch Verwendung einer ...
Bayreuth, 2022. - XIII, 366 S.
doi:10.15495/EPub_UBT_00006593 ...
(Dissertation, 2022, )

2021
Wagner, Lisa Maria Carolin; Roß, Theresa; Hollmann, Tim; Hahn, Frank
Cross-linking of a polyketide synthase domain leads to a recyclable biocatalyst for chiral oxyg ...
In: RSC Advances Bd. 11 (2021) Heft 33. - S. 20248-20251
doi:10.1039/D1RA03692K ...

2020
Hollmann, Tim; Berkhan, Gesche; Wagner, Lisa; Sung, Kwang Hoon; Kolb, Simon; Geise, Hendrik; Hahn, Frank
Biocatalysts from Biosynthetic Pathways : Enabling Stereoselective, Enzymatic Cycloether Format ...
In: ACS Catalysis Bd. 10 (2020) . - S. 4973-4982
doi:10.1021/acscatal.9b05071 ...

2018
Sung, Kwang Hoon; Berkhan, Gesche; Hollmann, Tim; Wagner, Lisa Maria Carolin; Blankenfeldt, Wulf; Hahn, Frank
Insights into the Dual Activity of a Bifunctional Dehydratase-Cyclase Domain
In: Angewandte Chemie International Edition Bd. 57 (2018) Heft 1. - S. 343-347
doi:10.1002/anie.201707774 ...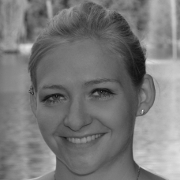 Faculty of Biology, Chemistry & Earth Science
Organic Chemistry (Food Chemistry)
---
Lisa Wagner
PhD-Student
Adress: Universität Bayreuth, 95440 Bayreuth
Room: U 04 (B 12)
Telefon: +49 (0)921 / 55-3665
E-Mail: lisa.wagner@uni-bayreuth.de